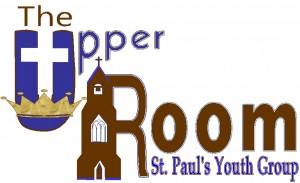 "The Upper Room" Youth Group
When:  Sundays, 11:00am
Who:   Students, 6th grade and higher
The Upper Room Mission Statement
Our Mission is to reach out to 6th – 12th grade students, providing a welcoming place to meet, and nurture our spiritual growth. The Upper Room is a place where we connect with God, each other, praise Jesus,   and help to make our community better.
The Goals for The Upper Room 
To provide a welcoming Christian environment
Learn more about God the Father, the Son and the Holy Spirit
To use fun interactive curriculum that relates to our life and sparks conversation about our beliefs and is rooted in scripture
Go on trips and or retreats that support our Mission
Help the local community financially or in service
Find a way to serve our church at St Paul's
The Upper Room Youth Group meets on Sundays after worship.
Contact Marcy Wade at  708 257-1019 for more information.
———————————————————————————————————————————————–
The goal of our youth program at St. Paul's is not to remove students from the adult life of the church, but to help them find a role as young people within the existing life of the congregation.